Dawn redwood 'Gold Rush' is a narrow pyramidal tree with spectacular bright golden foliage, it's a deciduous conifer!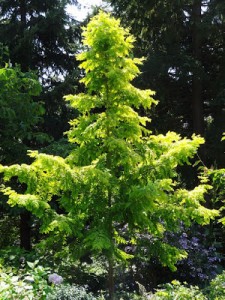 It is a fast growing tree in the Cypress family,  along with the Redwood and the Giant Sequoia.  This native to China, is the only surviving species in the ancient redwood genus Metasequoia.  This tree will grow to 6 m high and 2 m wide in 10 years.
Gold Rush, was found as a seedling in Japan and brought to Europe where it was named 'Gold Rush'. This golden leaved conifer keeps its colouring well into the summer.  It then turns orange-brown in fall, when it sheds all of its needles.  In spring, the needles return as a bright chartreuse before going yellow again.
This is an architectural tree – strong in form, bold in colour with fine texture. If you have room, it would be a stunning  addition to your garden. 
It prefers a sunny location and average soil.  Mine is growing in very light shade  and far away from my dogs. They love to  pee on all the young trees.