Cactus Pads
winter hardy cactus
Cactus pads we offer for sale
Opuntia cymochila-Grassland Prickly Pear new yellow flower zone 4, $8 per pad

not available, crop failure
Opuntia cymochila x fragilis 'Smithwick'
Named after Claude Barr's home town. Golden spines and yellow flowers. 5″ high by 24″ wide. Hardy through zone 3. $8 per pad. One of my favorites, small pads, huge flowers , easy to grow.
Opuntia erinacea var hystricina ( LaMar

) , only few pads available , $10 per pad
Oval pads covered with very long spines , beautiful, slow, zone 5 , color?
Opuntia fragilis "Black Cat" sold out
This dark spined Cat's Paw forms a tight mound. The glossy, dark spines make a real show. Yellow flowers in June. zone 4 (3?), $8 per pad
Opuntia fragilis (Spiny Cat's Paw Cactus)
Simple yellow June flowers fade to apricot the second day. The plant is small and compact. 3″ high by 24″ wide. Fast grower. Zone 4, 3 pads $8
Opuntia fragilis 'Bronze beauty' few

available
Globe-shaped, spherical stems, short glochids and yellow flowers in June. Looks like small potatoes, 3″ high by 12". Zone 4, 1 pad $8
Opuntia fragilis "Pony"
Large, rich magenta-pink flowers with yellow centers on the small plant. zone 4 (3?) $8 per pad
Opuntia 'George Sydow ' new limited sold out, sorry it is a slowe one
Hybrid between Opuntia fragilis and Opuntia polyacantha var. rhodantha, T Small oval pads covered with white spines. It's a prolific bloomer with many small rose flowers . zone 4 $8 per pad
Opuntia humifusa , Eastern Prickly Pear
Due to its creeping habit Opuntia humifusa will hardly exceed 8″ (ca. 20 cm) in height, but its horizontal spread appears to be virtually unlimited if the plant is happy. The flowers are up to 2″ (ca. 5 cm) across. I had to about 1000 flowers on my patch. zone 4 $10 per rooted pad
Opuntia humifusa Point Pelee- new, limited
Few long spines on the top of the pad. Yellow flowers, big fruit.
zone 4 $10 per rooted pad
Opuntia humifusa New Jersey- Devil's-tongue sold out
Oval pads white few long spines, glochids, yellow flowers, edible fruit
zone 5. $8 per plant
Opuntia hybrid 'Red Gem' ,
An apparent hybrid between basilaris or aurea with fragilis! The small, round, 2-3″ wide pads have very short spines and are fragile (pads break off easily). The petite, deep pink flowers in June are abundant. 4″ high by 18″ wide. Zone 4, $8 per pad
Opuntia macrorhiza – almost round pads , bluish in color, covered with numerous tufts of bristles (glochids) in brown/reddish color. Masses of flowers, yellow with red zone 5, $8 per pad

Opuntia " Namao Rose" Jean Wieprecht selection ( Alberta). new, sold out
Small plant with beautiful rich pink flowers . zone 3 $8 per pad
Opuntia polyacantha 'Bernalillo' Very short white spines on a compact, tidy plant. Single, lemon yellow flower. Dark green pads turn bluish with cold weather. Zone 4, $8 per pad
Opuntia polyacantha v. polyacantha x fragilis 'Claude Arno'
Abundant, deep rose flowers in June on very compact, petite plant. 4″ high by 18″ wide. Zone 3, $8 per pad
Opuntia polyacantha 'Crystal Tide', great selection for beginners, hard to kill, very hardy
Near-white flowers with striking pink stamens in June. Compact habit with short, white spines. 6″ high by 24″ wide. Zone 4, $8 per pad
Opuntia polyacantha 'Peter Pan'
A non-flowering, perpetual juvenile form. Snow white, short spines on small pads, 1″ wide by 3″ long. The tight, carpeting cushion is 3″ high by 24 inches wide. Great in the rock garden or in troughs. Love it
Zone 3, $8 per 2 pads
Opuntia polyacantha -Redcliff Alberta (Lori) new, sold out
Well growing, long white spines, pink zone 4 or less. $8 per pad
Opuntia polyacantha -Redcliff Alberta (JB) new, yellow/peach flower, beautiful , $ 10 per pad, few available
Opuntia polyacantha 'Taylor's Red' didn't survive 2019, not available
Collected by Allan Taylor near Cheyenne-Wells, Colorado. Uniformly cloaked in 1 inch long white spines. Flowers in June. 8″ high by 48″ wide. zone 4, $8 per pad
Opuntia polyacantha (garden hybrids ), pads 5-7", Zone 4. All $8 per pad :
Diamond – pale, almost white flowers, striking pink stamens, flower
petals

are pointed,

very eazy, great plant

Dusty pink– beautiful , pink flowers, blooms profusely. Color changes with age of flowers and light. This one is the easiest and best growing cactus .

Lemon Sorbet– light yellow with hint of lime, an abundance of flowers. Very easy to grow, great plant.

Orangina–start yellow then turns orange . Easy to grow, great plant.

Raspberry pink -, very bright pink, blooms profusely sold out

Yellow "Tutu" – yellow blooms with little red, blooms profusely.

Opuntia rutila – Slightly flattened, cylindrical stems, yellow flowers. 6″ high by 24″ wide. Zone 4, $8 per pad

Opuntia spp (Saskatchewan) I got this one at garage sale. I was told by the owner of the garden that he collected it in Saskatchewan. This opuntia has rather small pads, very tidy habit and beautiful yellow flowers reassembling rose flowers. It is a slow grower, Zone 4, $8 per pad

Opuntia Tortispina, huge pads with beautiful, big pink flowers. Zone 5, $8 per pad not available, crop failure

Opuntia polyacantha ex 'Wavy Gravy' sold out

My original plant had wavy pads , unfortunately I had no time to remove the regular growth so the whole plant reversed and has regular pads. Since it is well growing plant and has beautiful flowers I do recommend it. Yellow aging to peach . zone 5(4?) $8 per pad

Opuntia viridiflora (Sante Fe Cholla) shrub like cactus, h- 30", zone 5, flowers ?, never bloomed for me . Zone 5, $ 10 per rooted pad sold out

Sempervivums are send bare roots, with the name tag. Usually 3-5 rosettes depends on the plant. Price $5 per plant

Cactus ordering

Place orders by mail or e-mail at annasperennials@gmail.com

Anna's Perennials
63 Shoreview Road
Lindsay, ON K9V 4R5

Sorry-we cannot accept phone orders, COD's, or credit cards.

Minimum order is $24.00 (cost before shipping)

Plants will be reserved once full payment is received.

Shipping

Shipments are made from May to August, depending on weather. We like our plants to be fully filled out from their winter dehydration before we ship them.

All orders will be shipped by Canada Post-XPRESSPOST, at the beginning of the week to allow for delivery before that weekend, we will contact you by phone or email to let you know when plants have been shipped.

Shipping charges

First Letter of Postal Code (1 to 5 pads)
H, K, L, M, N – $15.00 – more than 5 pads $ 17.00
B, C, E, G, J, P, R, S – $19.00 – more than 5 pads $ 21.00
A, T, V, X, Y – $24.00 – more than 5 pads $ 26.00
For larger orders, contact us and we will advise you of the shipping cost.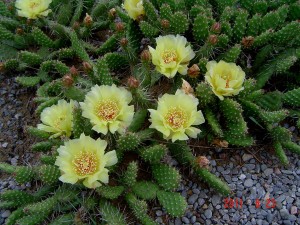 Full payment is due with your order. PayPal or interac e-Transfer are our only terms- we do not accept COD orders.
If for any reason, you are not satisfied with the cactus pads that you receive from Anna's Perennials, please contact us immediately within one week of receipt of cactus. We cannot guarantee the success of plants after this point because there are too many factors beyond our control.
Should you have any questions or problems pleased contact us via email or phone annasperennials@gmail.com or 705-799-0062.
How to plant
Opuntias will arrive as pad or stem cuttings. They should be placed in a dry, shaded, warm area to allow them to heal well. After that they can be planted. You can plant them in pots or directly in your prepared soil, ensuring the soil is well drained. Using kitchen tongs lay the pads on their side and press gently into the soil. Roots will form on the underside of the pad and give it a good start. Cacti should be planted in relatively dry soil and not watered in. They can be watered after a couple of weeks .
Alternatively, stick the pad with cut end into the soil so that the pad is vertical. The danger in this is that the wound where it was severed from the mother plant could become infected with bacteria or fungus. Erwinia bacteria (potato soft rot) is the common pathogen of newly planted cuttings.
Any part of cactus pad touching soil will root
Check for roots on the pads after opening the parcel, if they have already developed, plant that part in to well-drained soil immediately.
All stock is in excellent condition on leaving our nursery.
No warranty is made as to the productiveness of any stock sold.
Returns are not accepted.
For PDF version of this page, click here.