Magnolia macrophylla subsp. Ashei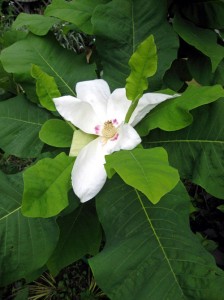 This spreading deciduous shrub or small tree has large, light-green glossy leaves to 2 feet long. It flowers in early summer with jasmine- and citrus-scented blossoms in white with maroon markings at the base. Each flower is up to 10 inches across. It grows up to 20 feet tall and wide and is a native of North America.
Grow in moist, well-drained, preferably acidic to neutral soil, in sun or partial shade; they do not tolerate wet feet. Magnolia flower buds are susceptible to late-season frosts,  so plant it in a sheltered  location.
Prune in late winter or late summer to prevent bleeding of sap; prune minimally to maintain a healthy framework. 
We only have two Ashei for sale . When I saw them at the  trade show,  I new I had to have one!  Not just for the flowers, the foliage on them is magnificent.  So, if you have acre or two this is a specimen for you. Zone 5,6 and up. Since recommendation for planting zone varies from one  website to another I would planted Ashei in a sheltered zone 5 .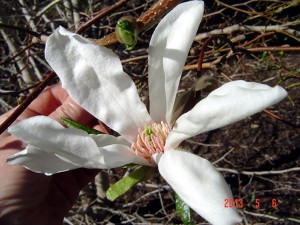 I have few  different magnolias in my garden( zone 4-5) and so far all of them are growing,  and every year I have blooms.
There are two I started from seeds and it  took about 10 years for first blooms.
I know this is a long time to wait but it passed very quickly. I don't  remember the name but I do love the flowers in the spring and over all appearance in summer,  and that is what is important.
 On the picture: flowers on the magnolia from seeds. We have few whips potted for this year.