This cultivar is a golden form of Shore Juniper. Low spreading shrub with bright golden yellow long-needled foliage, developing slight bronze overtones in winter.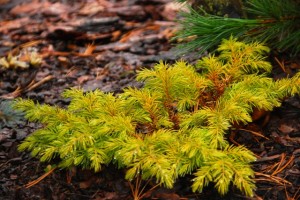 This is an evergreen groundcover that grows to 6" in height and a spread of 6' at full maturity. It forms a flat carpet that roots as the original plant spreads out in a circular fashion.
Most of junipers are quite prickly, this one is soft and  pleasant to the touch.

I have one growing for  two years in my rockery, full sun, not too much water us I depend on mother nature.
zone 5